Pahalgam, a town in the Anantnag district of Indian Union territory of Jammu and Kashmir is a place worth a visit. A place with valleys and pristine water, it is also the starting point of the annual pilgrimage to the holy cave of Amarnath. It is a hill station with lush green meadows, and home to Asia's only saffron growing area. Trekkers can trek through the pike forests and get an unforgettable memory of the snow-capped peaks. Pahalgam is located 45km from Anantnag on the banks of Lidder River at an altitude of 7200 feet (2200m). It is situated in the central position of Lidder valley. The best time to visit is during summers between mid-April and also between July-August during the annual pilgrimage to the holy cave of Amarnath.
How to reach
Pahalgam does not have an airport or railway station. The nearest airport is Srinagar, you can travel from Srinagar to Pahalgam by Bus or Taxi and it takes 2 and half hours for travelling. Distance of Pahalgam from Jammu is 95 Km. 
Read:-HOW TO START A HOME BUSINESS IN INDIA
Best places to Visit
The scenic views, natural beauty and the valleys attract tourists towards Pahalgam. There are many trekking and hiking centres, tourists can explore the places by riding on ponies and horse backs. Pahalgam provides a sweeping view of Himalayan range with a scenic view of the pine forests along with birds. You can also obtain a fishing license from Directorate of Fishing in Srinagar and enjoy fishing. Pahalgam is a starting point of many treks and you could trek through the coniferous forests and enjoy in the meadows along with wildflowers. 
The top tourist attractions in Pahalgam are:
A glacial river originated from the Kolahoi Glacier. Crystal clear water, with beautiful valleys in the background and a meditating sound of birds and the flowing water is something which is experienced by the tourists. It is one of the most visited places and a tourist attraction worth visiting.
Read:-LOCKDOWN AND YOUR MONEY
A hanging glacier with a breathtaking view, is situated over the Lidder river. The only way to reach this glacier is by trekking and if you are not a trekking type of person you can hire a horseback ride or ponies. The trekk is very challenging so it is advised to go with local experienced trekkers.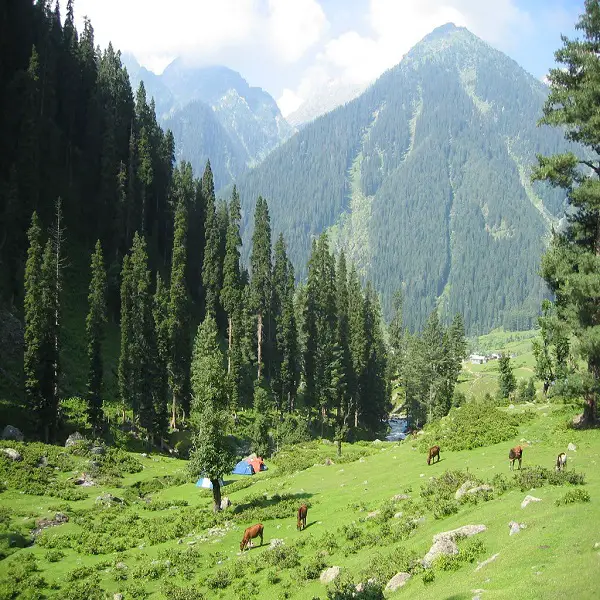 A famous village in Kashmir, near aru river a tributary of Lidder river, is a small meadow which is base camp to trekkers to lake Tarsar and Kolahoi glacier. Most tourists visit this scenic meadow for a luxurious holiday and for adventures like trekking and hiking.
Read:-SMALL BUSINESS: A GAME CHANGER FOR INDIAN ECONOMY
A temple dedicated to Lord Shiva, is situated at a distance of 1 Km from Pahalgam. Is a place which brings pilgrims from around and has importance in the local community.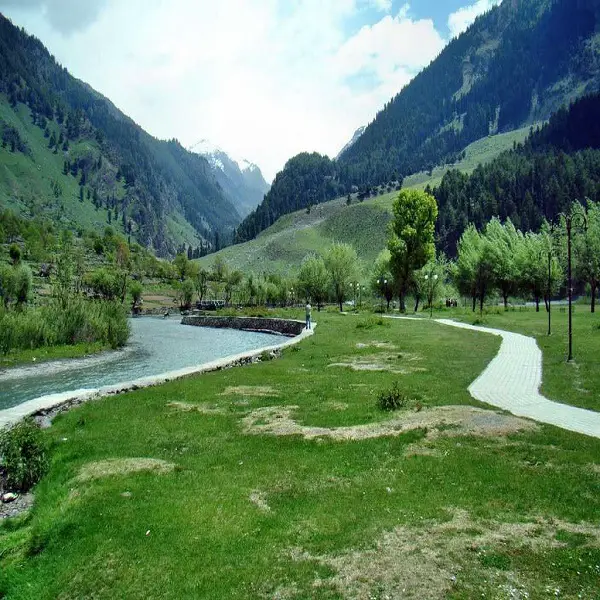 Around 40 km from Pahalgam, is a scenic place with paths which lead to Amarnath cave. Campers can camp around the paths and enjoy the valleys view.
Read:-BIGGEST CHALLENGES OF DIGITAL MARKETING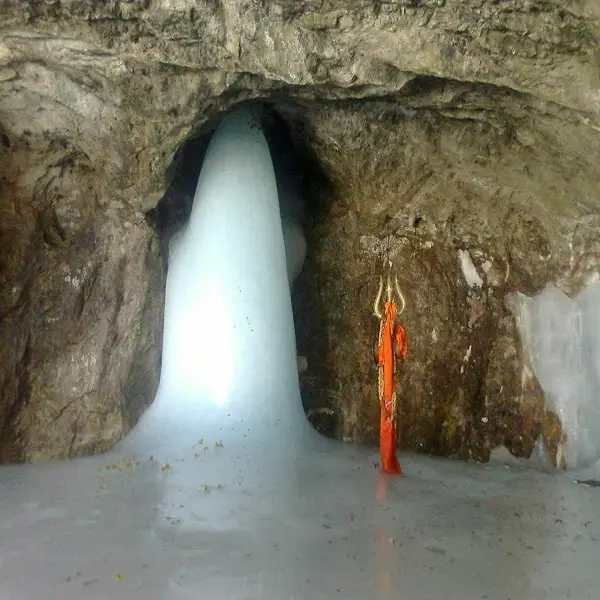 The famous amarnath yatra starts from Pahalgam and the cave where the walk ends. The distance from pahalgam to amarnath is 156km and is traveled by the pilgrims by walking. 
A most visited lake, with an eye catching view and one of the beautiful places in pahalgam where camping around the lake is done. The local believe the lord Sheshnag still lives in the lake and hence consider the lake as holy lake.
Read:-REASONS WHY SMALL BUSINESSES FAIL