Thailand is famous for its exquisite white-sand beaches and bustling cities. On top of that, it is a country that boasts one of the most exciting, mouthwatering, and flavorsome cuisines. From starters to desserts and everything in between, Thailand has many famous dishes to offer.
Thai cuisine is characterized by strong flavor combinations that include spicy, sweet, salty, sour, and aromatic infusions. So, whether you like spicy food or not, the Land of Smiles has something that will get your taste bud tingling, leaving you wanting more. Not only that, but some of the food is rich in vegetables, which makes them one of the world's healthiest cuisines.
With that in mind, if you have not tried Thai food, we have got you covered with this list of famous dishes to start.
1. Som Tam
This crunchy, tangy papaya salad is the best appetizer to awaken your palate if you want a refreshing meal. Aside from shredded papaya, other ingredients in the meals include garlic, chilis, carrots, tomatoes, roasted peanuts, green beans, palm sugar, fish sauce, and dried shrimp. These ingredients are then tossed in a sweet, sour, and salty lime sauce.
A plus point for this meal is that the papaya and vegetables will not become soggy in the dressing. So, you can keep it in the refrigerator for up to two weeks.
2. Pad Thai
As one of Thailand's national dishes, Pad Thai is usually a go-to option for tourists who have just explored Thai cuisine. It is a fried noodle dish prepared with chicken or shrimp but like any other Thai meal, the vegetarian option is famous too. In addition, Pad Thai is a cheap meal and can be found on many street stalls.
3. Khao Kriab Pak Moh
Khao Kriab Pak Moh offers a balance of flavors with its ideal blend of sweet, salty, and spicy tastes. Although it is originally from Vietnam, this meal is now widely found along Thailand street. Not only that, but it is also the perfect meal to have on a rainy day.
Furthermore, the fillings are coriander, pepper, garlic, radish, peanuts, soy sauce, palm sugar, and different spices. You can also opt for proteins like pork, chicken, or shrimp. To top it off, it is garnished with extra chilis, cilantro, as well as crispy lettuce leaves.
4.  Khao Ka Moo
While it has Chinese origins, this simplest yet comforting dish is now popular in Thailand. Khao Ka Moo is a classic recipe prepared by grilling pork legs in a pan and stewing it in palm sugar, soy sauce, peppercorns, oil, garlic, Chinese five spices, and coriander root. Moreover, this meal is typically served with steamed rice along with side dishes like Chinese broccoli and pickled cabbage.
5.  Ho Mok Maphrao On
Ho Mok Maphrao On is a seafood coconut curry dish with an appealing presentation. Although the curry is usually steamed in a coconut shell, there is another option to steam it in banana leaves for a unique taste.
This dish is prepared with coconut cream (which gives it a creamy texture), red curry paste, and aromatic seasonings, including galangal, basil, makrut lime leaves, fish sauce, and sugar. Combine it with a bowl of steamed rice, and you will surely get a filling meal.
6.  Pad Phuk Tong
This is one of the best vegetarian-friendly dishes from Thailand. Although it is very difficult to find, this dish is worth being on your must-try list. Pair it with a bowl of brown rice, and you will surely return for more.
Read More: Best Dishes to Eat in Thailand
7.  Tom Yum Goong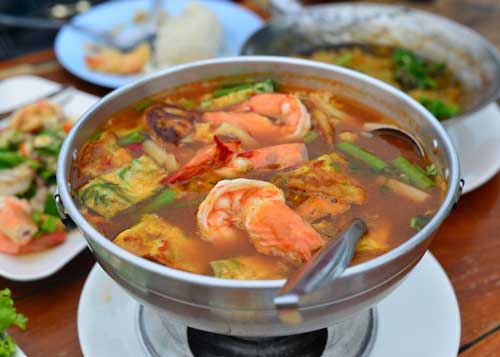 Tom Yum Goong may be one of the iconic dishes from Thailand. This steaming bowl of goodness offers a strong spicy kick complemented with a bold and aromatic flavor. In addition, it is created with famous Thai ingredients like chili, lemongrass, kaffir lime leaves, galangal, shallots, fresh lime juices, and some fish sauce. Besides, you can also add mushrooms, fresh prawns, and coconut cream for a creamy version.
8.  Tom Kha Gai
This meal is almost familiar to tom yum. Therefore, it is the best option for people with lower spice tolerance who want to taste the same flavor. Besides the spice level, Tom Kha Gai is also distinct and usually served with a generous amount of creamy coconut milk, resulting in a rich, sweet soup.
The main ingredient of this meal is chicken. However, it is also available for vegetarians by substituting chicken with other vegetable options. Besides, Tom Kha Gai is also a good meal for those who like to reheat their food using the microwave as it would still taste as good as when you first have it.
Read More: 7 Must Try Foods In Italy
9.  Pla Kapong Neung Manao
Since there is easy access to seafood, it's no wonder that many Thai cuisines are based on protein. Plus, the freshness is showcased using simple seasoning in various dishes. Pla Kapong Neung Manao is a steamed fish commonly prepared using barramundi or known as Asian sea bass with lime juice, lemongrass, cilantro, garlic, and chili. Additionally, this meal is served with steamed jasmine rice for an ideal combination.
10. Laab
Prepared with either meat or mushroom and mint, Laab is a northeastern-style salad that is ideal as an appetizer. It comes in different versions, including chicken, pork, and mushroom. However, for those with a lower tolerance for spicy foods, this may not be the best option as it is famous for its spiciness.