When you don't eat full pizza the first question which clicks in your mind is How long is pizza good for in the fridge?
If you store your pizza in the fridge, it's good to eat for 4-5 days. 
As per USDA, any perishable food item which is left at room temperature the whole night is not safe to eat. After a long working day, when we come home or at midnight, we have got the craving to eat something, pizza might be the delicious thing to eat. 
If you want to store your pizza in your fridge and you aim to store it for at least 4-5 days. Here is a bonus tip you should know.
Your fridge temperature should be 40 degrees Fahrenheit or a minimum of 4.5 degrees Celcius. If your fridge fails to have this temperature, you should first fix your fridge before storing pizza in it.
As per the food experts, the above-mentioned temperature is the ideal temperature to store pizza in the fridge. 
How to wrap pizza before storing it in the fridge
Pizza is a baked item and has lots of stuffing on it. You need to place one pizza slice on top of another pizza while their stuffing sides face each other.
Then wrap both slices with plastic wrap or aluminum foil. This will create the perfect ecosystem for a pizza to last longer in the fridge.
Related: Which size of dominos pizza is best value
Method to heat pizza after removing from fridge
There are several methods to heat your pizza. The most common method is heating pizza in the microwave oven, which is wrong. You need to unwrap pizza slices and heat them on the non-stick pan. Heat the pan place the pizza slice and after a few minutes, you can place the lid on top of that slice.
It will produce steam and stuffing will get heat which is needed. Don't worry about the pizza base, it will become soft but the bottom part of it will remain crunchy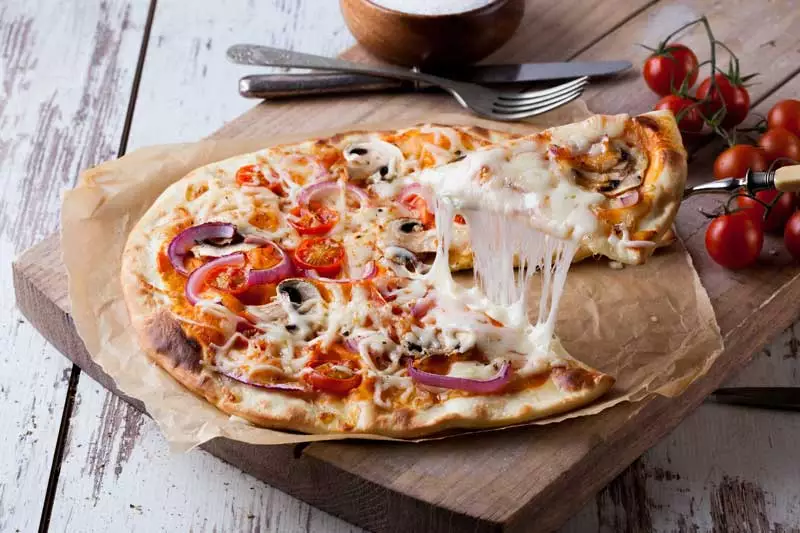 Conclusion:
However, you can enjoy your pizza for 4-5 days if you store it in your fridge with the appropriate method.